Are you searching for a better way to streamline employee and staff travel? By partnering with a bus transport company in Singapore, your organization can take advantage of coach bus transportation that is reliable and cost-effective. This is the perfect solution for business trips that involve multiple people traveling together. Not only does it save time by having everyone together on one vehicle, but it also helps to reduce the stress and hassle associated with group travel. No more worrying about coordinating pickup points across MRT stations & sg bus stops or chartering multiple vehicles – let AA Translink takes care of it all! With its convenient and efficient services, utilizing corporate bus booking ensures that your employees and staff have a streamlined and enjoyable experience every time they go to and from work or for company outings like Family day trips or carnivals.
Why Rent a Minibus or Coach for Employee Transportation or Corporate Trip?
Renting a minibus or coach for employee transportation or corporate trips is a great way to ensure a comfortable and stress-free journey. A private bus or mini coach offers plenty of space for your team to travel together in style. With enough room for everyone and their luggage, plus air conditioning and ample legroom, it is the perfect solution for larger groups. Whether you need an airport transfer from Changi Airport or transport services for a day trip, renting a minibus or bus will make sure that everyone gets to their destination punctually and in comfort. Plus, you can rest assured that we have professional drivers that know the area well and will get you there safely. Renting a minibus or bus is the perfect choice for any employee transportation needs!
How does Bus Chartering work at Enterprise Level?
Enterprise Level Bus Chartering is a service that provides private bus charters for multinational companies running big operation plants and commercial offices that require daily staff transportation. Our packages include bus charter with driver services to anywhere in Singapore and can be customised to fit the needs of your company or organization. With Enterprise Level Bus Chartering, companies are able to arrange transportation for their employees or guests with ease. Whether it's for a one-off event or regular shuttle bus services, Enterprise Level Bus Chartering offers charter options in Singapore that work hand in hand to meet your corporations' transport requirements. From large scale events to small private parties and corporate outings, we can provide you with the right private bus charter services for any kind of transportation need.
What Types of Buses Are Available for Corporate Bus Bookings and What Is Their Respective Passenger Capacity?
There are several types of buses available for corporate charters, depending on the size of your group. Mini bus for hire usually have seating capacity of 13 people and are perfect for small groups or family outings. Bigger buses can seat up to 45 passengers and provide more space as well as comfort. Private charters are also available in Singapore, allowing you to hire a private charter bus with a seating capacity of up to 45 seater. If you're looking for a more luxurious option, you can opt for a limo bus charter service, which provides comfortable seats for your entire group. No matter what type of Singapore bus you need, there is sure to be a service that meets can your needs. Whether it's for a corporate event or simply an outing with VIP clients, hiring a bus charter is the perfect way to get around in style and comfort.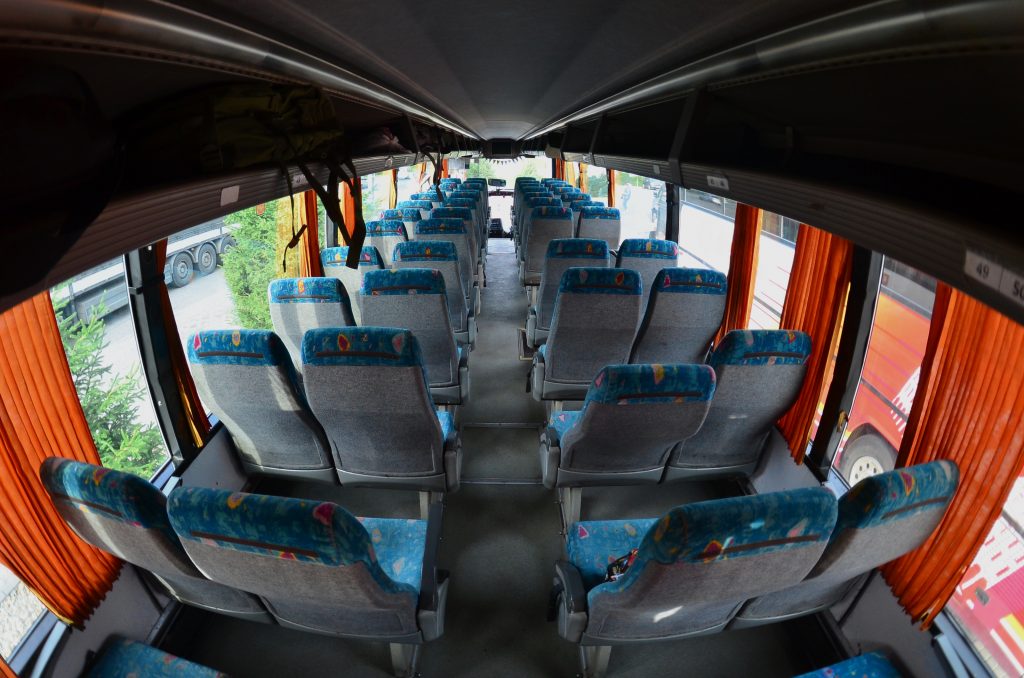 Choose From 13 Seater Mini Bus, 23 Seater, 45 Seater Bus Charter to Mercedes Sprinter Limo
If you are looking for a bus for hire with driver in Singapore, then choose from the vehicles we provide from 13 seater, 23 seater or 45 seater buses. It is easy to book a Big Bus charter that can accommodate up to 45 passengers from our range of vehicles. The 13 seater minibus charter services are perfect for any special occasion or corporate event. Not only will you have the comfort and convenience of an excellent bus, but also the reliability of a Singapore-based bus transportation service that knows the routes and locations well. With their experienced drivers and professional service, you can be sure that your journey will be a safe and comfortable one. The private hire bus also comes with additional amenities such as audio systems, air-conditioning, reclining seats and more to make your trip even more enjoyable. So if you are looking for an affordable yet quality way to travel in Singapore, consider booking a Mercedes Sprinter Limo Bus or other seater minibus charter for your private group journey today!
Can Corporations Able to Book Several Buses at Once for Major Events Like Conferences So Many Colleagues Can Travel Together?
Yes, corporations can request several buses at once for major events like conferences. This group transport is ideal for large groups of colleagues who need to travel together, and the friendly drivers provide a safe and comfortable journey. The buses are well-maintained and air-conditioned, allowing everyone to arrive in comfort. Local bus transportation around Singapore is available to meet all your transport requirements, with competitive prices that make it easy to budget for your event. With the help of AA Translink, you can be sure that your colleagues will be safely transported wherever they need to go. Whether it's a conference, summit or another special occasion, chartering several buses at once provides the most cost-effective form of group transport for companies around Singapore.
Are there options for Hourly, Daily Or Monthly Bus Charter Rentals for my company?
Yes, there are options for hourly, daily staff transport or monthly bus charter rentals for your company. AA Translink is definitely a reliable bus transport service that can provide you with a bus or coach that meets your needs and provides safe and comfortable transportation solutions with a chauffeur. Depending on the size of your company, you may choose to rent as many buses as necessary to accommodate all of your employees, staff or clients according to the purpose of the trip. Examples of daily bus charters are company learning trips for corporate headquarters staff to the factories to view company's manufacturing processes, transporting soldiers from camps to other military facilities and picking up employees living in Malaysia from the immigration checkpoints to their place of work in Singapore. The prices for these services are usually reasonable and come with no hidden fees. Furthermore, our partners can also provide additional services such as catering, audio/visual equipment, Wi-Fi access, etc., at an additional cost. Therefore, if you are looking for a reliable and cost-effective way to transport your organization's groups of people to their destinations in comfortably, then look no further than bus charter rentals from AA Translink.
Can Arrangements Be Made for Short Term or Long Term Shuttle Service Contracts for Enterprise Bus Hire?
Yes, arrangements can be made for both short-term and long-term shuttle service contracts for Enterprise Bus Hire. We provide minibus charter services in Singapore that are both safe and reliable. We have experience plying shuttle bus routes from Tanah Merah MRT to Changi Business Parks, from Jurong East MRT to International Business Park, from Pioneer / Joo Koon MRT stations to Tuas industrial factories and Jurong Island facilities as well as Sembawang MRT to Sembawang Shipyards or Senoko Industrial Areas.. You can trust us to provide reasonable prices with no hidden costs. When renting a private bus from us, you will get the best bus possible as our vehicles are regularly maintained and inspected. Our bus drivers are experienced and professional and they always strive to give the best service to all customers. We also have special rates for long-term contracts so you can save more money when hiring us for longer periods of time. Corporate clients to provide their transport requirements can contact us directly to learn more about our value added services and get an estimate of your shuttle service needs!
When It Comes to Singapore Corporate Bus Booking & Enterprise Bus Rental Service Reliability, We Are the Bus Charter & Coach Hire Specialists Your Company Can Depend On!
When it comes to the reliability of corporate & enterprise bus rental service, AA Translink Pte Ltd is the leading bus transport company your corporation can rely on. Our well-maintained and air-conditioned buses are the perfect choices for transportation services in Singapore. With our private bus charter, bus rental and coach hire services, you can enjoy a comfortable journey at any time with your staff, employees or visitors. We pride ourselves on providing you with the best private bus service for larger groups and corporate events. Our rental services include an experienced driver to ensure safety and comfort as your people travel around Singapore. We guarantee reasonable prices with our top-notch service, reliable vehicles, and professional staff. Choose us for all your Singapore corporate bus charter and enterprise bus rental needs!
Book Group Transportation With AA Translink for the Staff of Your Corporations, Organizations, Manufacturing Plants, Business Parks, Offices & Factories
AA Translink offers reliable corporate coach services to transport staff of corporations, organizations, manufacturing plants, business parks, offices and factories. Our charter services provide a safe, comfortable and convenient transportation solution for any group size. We have a fleet of modern buses that are perfect for business trips, employee shuttles and special private events. Our experienced team works hard to ensure the highest standards of quality and safety for all our customers. We also offer bus charter services in Singapore to suit every budget and requirement. Whether you need a single bus or an entire fleet for your event, AA Translink is here to help. With our reliable service and affordable rates, we can make sure your group transportation needs are met with ease.